Hotel DECA – Blocked Rooms Reserved!
January 4th, 2011 // 8:38 pm @ minhsao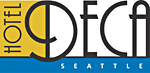 I've reserved a block of rooms for our wedding guest at Hotel DECA in U District. It is fairly close to our wedding church. Please let them know you are with Vicky Hu and Min-Hsao Chen's wedding and they will provide a $119 / day rate (Usually $139).
If you find better deals around town please let me know.
Hotel DECA's information is as follows:
HOTEL DECA
4507 BROOKLYN AVE NE
SEATTLE, WA 98105
Phone: 1 (800) 899-0251
Category : Journal